What Are the Different Types of Kitchen Cabinets?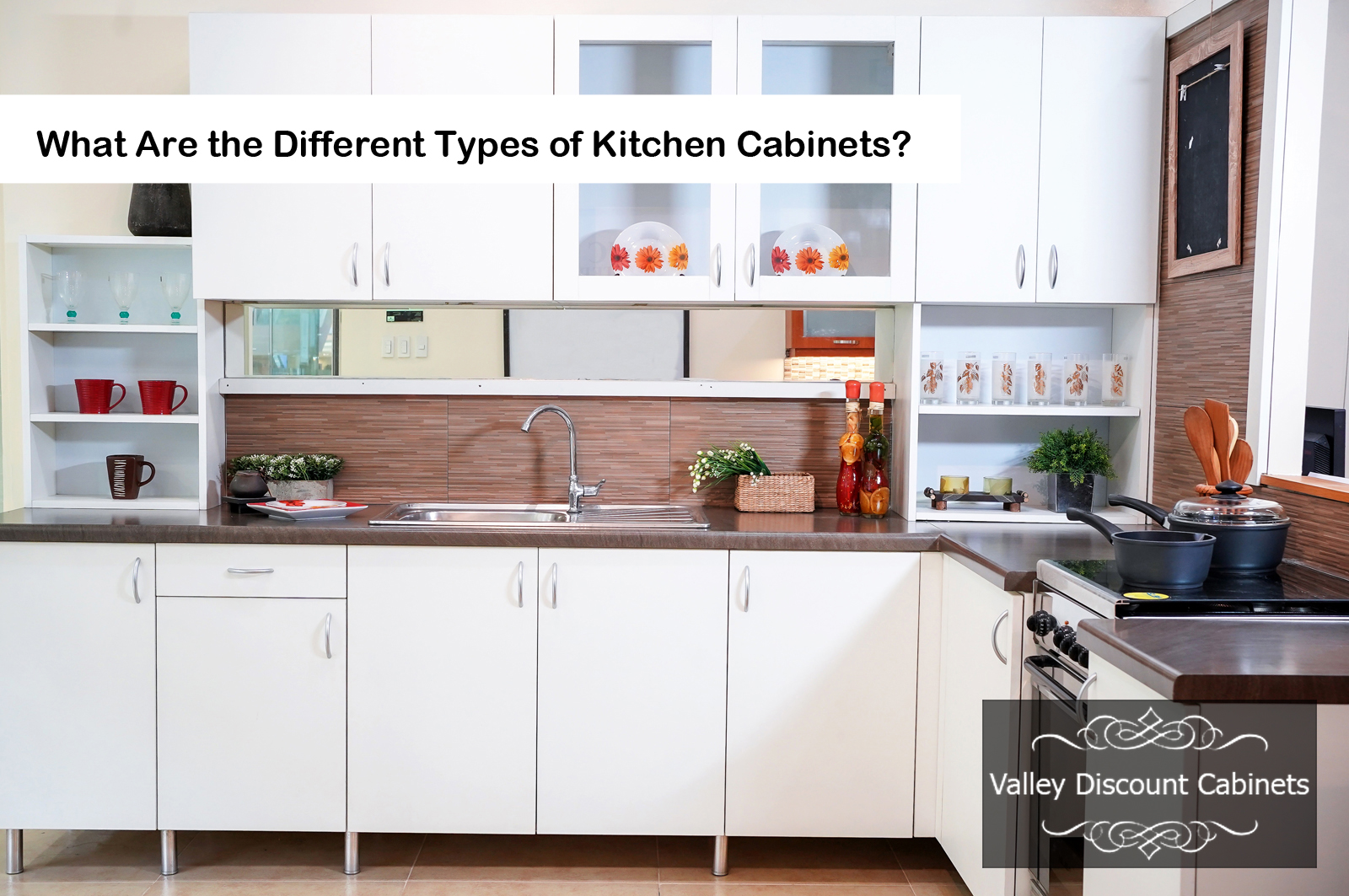 When remodeling your kitchen, one of the most important decisions you will have to make is what type of kitchen cabinets to use. Various kitchen cabinet types are on the market, ranging from traditional wood cabinets to more modern, industrial-style metal cabinets.
When considering which type of cabinet is right for you, it's important to consider the design of your kitchen and what type of materials will work best for your needs. Valley Discount Cabinets is here to provide some insight into the kitchen cabinet designs available today.
Exploring the Many Options: An In-Depth Look at the Different Types of Kitchen Cabinets Available Today
This is a guide to some of the popular kitchen cabinetry so that you can make an informed decision.
Custom Kitchen Cabinets
Custom cabinets are the perfect choice for those looking to personalize their kitchen and make it uniquely theirs. Custom cabinets come in different kinds of shapes, sizes, colors, materials, ornaments, and finishes. They are made-to-order and can be tailored specifically to fit your space. The cabinet construction and materials are completely up to you, so you can create the exact design layout you want. From drawers, shelves, and cabinet door styles to decorative accents like moldings, flutes, and rosettes – you can make your kitchen look exactly the way you want it. 

Semi-Custom Kitchen Cabinets
Semi-custom cabinets offer the best of both worlds – they are customizable but still less expensive than custom cabinets. They come in a pre-set size, height, color, shape, and hardware, with some customization options available. You can customize the drawer fronts, shelves, doors, and accessories from handles, knobs, hinges, lights, etc. This type of cabinet is also a great choice for those with a limited budget but still want to make their kitchen look unique and stylish.
Stock Kitchen Cabinets
Stock cabinets come pre-made in multiple sizes and styles, making them a popular option for many homeowners. The drawer, shelf, and door styles are all pre-determined, so you can find a style to match the look of your kitchen. Because they don't require any customization, stock cabinets tend to be the most affordable type of cabinet available on the market today.
Ready-to-Assemble (RTA) Kitchen Cabinets
Simply put, RTA cabinets come in flat boxes and require assembly. One of the advantages of this is that you can buy them fully assembled, or you can do it yourself. These cabinets offer a cost-effective way to get the look you want without breaking the bank. The functionality and style options are similar to stock cabinets, but the assembly process allows for a more customized look.
Kitchen Cabinet Styles
Inset Kitchen Cabinets
Inset cabinets are the most traditional type of cabinet on the market. They have a classic, timeless look that is perfect for those looking to add a touch of warmth and charm to their kitchen. Base cabinets, wall cabinets, corner cabinets, and other specialty cabinetry pieces can all be inset. Shaker cabinets and beadboard cabinet doors are two popular inset cabinetry styles.
Framed Kitchen Cabinets
Framed cabinets are the most common different type of cabinet today. They have frames around the doors, making them look more like furniture than kitchen fixtures. From base cabinetry to full-height wall units, framed cabinets come in an array of styles and designs. Arched, glass, recessed, raised panels, and flat-panel cabinets are all popular styles of cabinet frame cabinets.
Frameless Kitchen Cabinets
Frameless cabinets are a modern style that is growing in popularity. They have no frames and offer the kitchen a sleek, streamlined look. They are usually used as pantry cabinets or for storage. The lack of a frame also allows for more space between the door and the drawers, creating easier access to items stored within them. Slab cabinet doors or flat panel cabinet doors are the most common cabinet door style of a frameless kitchen cabinet.
Full Overlay Kitchen Cabinets
Full overlay cabinets have a very little face frame around the kitchen cabinet doors, which helps them blend in with your overall kitchen design. They also allow for more storage space as there's no gap between cabinet boxes. Slabs of wood are used for their doors, which helps create a modern, minimalist look.
Kitchen Cabinet Materials
Solid Wood Kitchen Cabinet
Solid wood cabinets are a classic choice and can be made of many wood type, including maple, oak, hickory, cherry, birch, and more. The woods offer warmth and texture, are durable, and can be stained or painted to customize their look. Hence, it's the perfect choice for those looking to create a unique look in the kitchen.
High-Density Fiberboard (HDF) Kitchen Cabinet
HDF is a high-quality, durable material that can be stained or painted. High-Density Fiberboard is a type of engineered wood that is made from recycled wood fibers and resin. It's an affordable cabinet material commonly used in stock and semi-custom cabinets and can be painted or stained to create a custom look. It's an affordable option and offers the look of natural wood without the higher price tag.
Medium-Density Fiberboard (MDF) Kitchen Cabinet
MDF is a wood composite material made of wood fibers from hardwoods, softwoods, and glue. It's highly durable and holds paint well, making it ideal for cabinets. MDF cabinets are less expensive than solid wood and HDF but still more costly than other particle boards.
Thermofoil Kitchen Cabinet
Thermofoil cabinets are a type of cabinet made from vinyl or plastic fused to the surface of a particle board. They are an affordable option and provide a smooth, glossy finish. This kitchen cabinet is easy to clean and maintain, making it an ideal choice for busy households.
Laminate Kitchen Cabinet
Laminates are an affordable option and a good choice for those who want to make their kitchens look more modern. The strong core material for laminate cabinets is commonly made by compressing wood or wood dust with melamine, which hardens the mixture into a durable plank. A thin coating then adheres after that. This layer can be printed with a wide range of patterns, colors, and textures.
Melamine Kitchen Cabinet
Melamine cabinets are a popular option for budget-conscious homeowners. They are made from particleboard and covered with melamine, which is a hard plastic coating. They are affordable and can be painted or stained to create a custom look.
Steel or Metal Kitchen Cabinet
Metal cabinets are very durable and provide a modern look to the kitchen. They are perfect for those who want a contemporary look to their kitchen as they provide a sleek, industrial feel. Stainless steel or metal cabinets can also withstand heavy use and require less maintenance than wood cabinetry.
Kitchen Cabinet Finishes
Natural Finish Kitchen Cabinets
Natural cabinets are a great way to bring the outdoors in. It's best used with solid wood cabinetry as it helps to enhance the natural grain and texture of the wood, creating a warm and inviting feel in the kitchen.
Painted Finish Kitchen Cabinets
Painted cabinets are a great way to update the look of your kitchen and make it feel modern. It's best to use high-quality paint when painting kitchen cabinetry as it will provide a more durable finish.
Stained Finish Kitchen Cabinets
Staining is another popular option for cabinets and can be used to create a more classic, traditional look. Staining will also help to bring out the wood's natural grain, creating a warm and inviting aesthetic in the kitchen.
Glazed Finish Kitchen Cabinets
Glazing is a great way to add depth and texture to cabinets without taking away from the overall design of your kitchen. It's best used with darker-colored stains or paints, as it can add a subtle shimmer and depth to your cabinets.
Lacquered Finish Kitchen Cabinets
Lacquering is a good way to give kitchen cabinets a smooth, glossy finish. It can also be used to protect the wood from scratches, wear and tear, and dust.
Distressed Finish Kitchen Cabinets
Distressing can give your kitchen cabinets an aged, weathered look. It's best used with wood cabinetry as it will help enhance the wood's natural grain and texture, creating a rustic feel in the kitchen.
When it comes to kitchen cabinets, there are a variety of materials, designs, styles, and finishes to choose from. It's important to consider your needs and budget when selecting the perfect cabinets for your home remodeling project. With the right knowledge and advice, you can create an amazing look for your kitchen that will last for years to come.
The Bottom Line
Whether you are doing a kitchen remodel or updating the look of your existing cabinets, there are many options. The right kitchen cabinets can completely transform your property, giving it an updated and sophisticated look that will last the test of time. From wood to metal and from natural to distressed, there is a kitchen cabinet style and finish that will work for any house.
Kitchen cabinetry can make all the difference in the look and feel of your kitchen, so it's important to choose the right option. By doing your research and considering all the choices available, your dream kitchen can become a reality.
Valley Discount Cabinets is the premier cabinet store for custom kitchen cabinets in Scottsdale, Arizona. We offer a broad selection of kitchen cabinets, bathroom cabinets, vanities, and cabinet doors. All of our products are made with high-quality materials designed for maximum durability and long-lasting beauty. 
Our team of craftsmen is well-versed in the latest styles and trends in cabinets and can help you create the perfect kitchen for your needs. Whether you're remodeling an existing space or starting from scratch, we have something to fit any budget. Contact us today at (480) 746-4100 or visit our website to learn more about our services and get started on creating the kitchen of your dreams.