Bathroom Cabinets in Scottsdale, Arizona
Valley Discount Cabinets is the #1 Choice for Bathroom Cabinets in Scottsdale, AZ
Bathroom cabinets serve two main functions in your home: they provide storage for all your bathroom essentials and act as a decorative focal point. When it comes to finding the perfect bathroom cabinets for your Scottsdale home, there's no better place to shop than Valley Discount Cabinets. We carry an unbeatable selection of high-quality bath cabinets in a wide range of styles, so you're sure to find the perfect option for your space.
Plus, our team of experienced design professionals can help you every step of the way, from choosing the right bath cabinets and vanities to designing and installing your new bathroom storage solution. Homeowners, bathroom remodelers, and contractors trust Valley Discount Cabinets for all their bathroom cabinetry storage needs. For more information about our bathroom cabinets or to schedule a free consultation, contact our team today!
Custom Cabinets For Your Scottsdale Bathroom Remodel in Maricopa County
If you're looking for something truly unique, our selection of custom bathroom cabinets is sure to impress. As a cabinet store in the Phoenix metro area, we have a team of experienced designers who can create custom bathroom cabinetry for your baths. Whether you're looking for a one-of-a-kind vanity or custom bath storage solutions, you can't go wrong with our custom cabinet products.
From construction to delivery and installation, Valley Discount Cabinets is your one-stop cabinet shop for bathroom remodeling in Scottsdale. We'll work with you to create a beautiful and functional space that you'll love for years to come.
Shop Our Selection of Discount Bathroom Cabinets Today | Cabinet Store in Phoenix Metropolitan Area
Many homeowners put off updating their bathrooms because they think it will be too expensive. But at Valley Discount Cabinets, we believe everyone deserves beautiful bathrooms – no matter their budget. That's why we offer a wide selection of top-quality yet affordable bathroom vanity cabinets.
Frequently Asked Questions
If you're looking for a quality cabinets, Valley Discount Cabinets is the best for you!
Modern Bathroom Cabinets
Our selection of modern bathroom cabinet vanities is sure to impress if you're looking for sleek and stylish bathroom vanity. These bath vanities are designed with clean lines and minimalistic hardware and accessories, making them the perfect choice for a contemporary space.
Traditional Bathroom Cabinets
For a classic look, our traditional bathroom vanities are a great option. These cabinets feature detailed moldings and woodwork, and they come in a variety of styles to suit any taste. A bathroom remodeled with traditional cabinets is the perfect way to add a touch of elegance to your baths.
Rustic Bathroom Cabinets
If you're looking for a bathroom vanity with a bit of character, our rustic bathroom cabinets are a perfect choice. These vanities are made from natural wood, giving them a unique look that will add warmth to your space.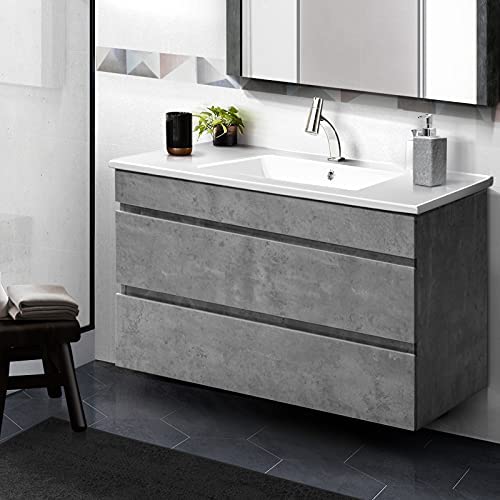 Shaker Style Bathroom Cabinets
The Shaker style is a popular choice for bathroom cabinetry and a good reason. Shaker cabinets are known for their simple, clean lines and functional design. If you're looking for a no-fuss bathroom vanity, our shaker-style cabinets are a great option.
Single Bath Vanity Cabinets
For a smaller bathroom or half-bath, our selection of single bath vanities is a great option. These cabinets take up less space, making them perfect for a smaller bathroom. Many of our single vanities come with a matching mirror, which can help to make your bathroom feel more open and spacious.
Double Bathroom Vanity Cabinets
If you have a larger bathroom or if you simply want more storage space, our double vanity cabinets are a great option. These cabinets provide plenty of storage for all of your bathroom essentials and come in various styles to fit any decor.
Floating Bathroom Vanities
A floating bathroom vanity is a great way to add storage to a small bathroom. These vanities are mounted to the wall, so they take up less floor space. Any type of sink can be used with a floating vanity, including vessel sinks, pedestal sinks, and undermount sinks.
Freestanding Bath Vanities
A freestanding vanity is a great way to add a touch of luxury to your bathroom. These vanities are not attached to the wall, so that they can be placed anywhere in the room. Most freestanding vanities have their own storage, so you can keep your bathroom organized and clutter-free.
Bathroom Cabinet Experts serving Scottsdale, Paradise Valley & Phoenix Area.
Bathroom renovation can be a big project, but it doesn't have to be expensive. With our large inventory of bathroom vanities & cabinets, you can update your space without breaking the bank. And because we're a local cabinet store in the Phoenix metropolitan area, you can be sure you're getting the best possible prices.
Our team of experts can help if you're unsure where to start. Valley Discount Cabinets' professional bath cabinet designers will work with you to create a custom bathroom design that fits your style and budget. And we'll even deliver and install your new cabinets for you. Ready to get started? Shop our selection of discount bathroom cabinets today, or get in touch with us for a free quote and estimate.
Speak with a Cabinet Designer at Our Scottsdale Showroom
Have questions or want to see our bath cabinets in person? We invite you to visit our showroom in Scottsdale, Arizona. Valley Discount Cabinets will be more than happy to assist you in all things bathroom cabinetry. You can also reach us by phone at (480) 746-4100 or contact us online.