Cabinet Store in Sun City, Arizona
Sun City is a community located in Maricopa County, Arizona. Sun City, founded in 1960 as one of the country's first master-planned age-restricted communities, is an unincorporated area offering residents numerous amenities including golf courses, swimming pools, fitness centers and a bowling alley. This lively community boasts quality living at an affordable cost with its friendly atmosphere and active lifestyle perfect for everyone!
With a population of over 40,000 people, Sun City is one of the largest retirement communities in Arizona. Sun City West, its sister city, is an equally attractive retirement community for snowbirds. Both Sun Cities are renowned as ideal destinations for retirees seeking a warm escape from colder climates.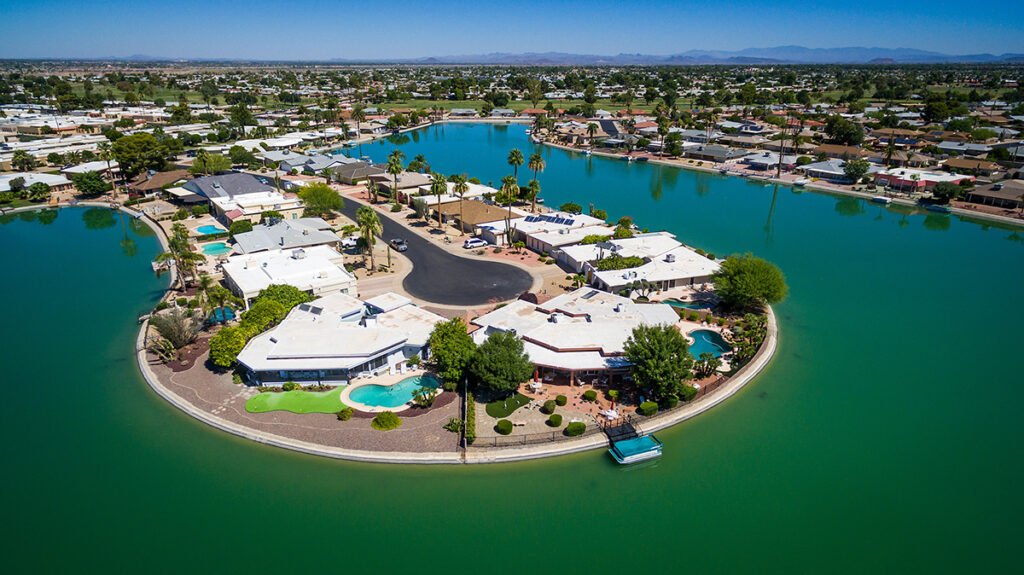 Sun City is a picturesque destination, with its lively trees and vibrant florals. Its streets are adorned with stunning homes kept in pristine condition, and the recreational facilities available here provide an unmatched experience for all visitors. Residents can take advantage of several activities such as swimming at one of the various pool complexes or playing golf on a premier course; there are even weekly get-togethers specifically catered to senior citizens!
Sun City offers an unbeatable combination of amenities, hospitality, and a budget-friendly cost of living that make it the perfect place for retirement. So why not come live your golden years in Sun City? With its spectacular views, wonderful people and plenty to do – you won't regret it!
History of Sun City, Arizona
On the first of January 1960, Sun City opened its doors and welcomed five home models, a shopping center, a recreation center, and a golf course. Astonishingly, an astounding 100 thousand people poured in during opening weekend – ten times more than anticipated! This remarkable feat earned its own Time Magazine cover story.
Del E. Webb's success in developing Sun City on the site of a former ghost town, Marinette, inspired him to further expand his business by creating other retirement communities in the 'Sun Belt.' These included Sun City West built in the late 1970s, followed by Grand and Anthem constructed during the 1990s and finally Sun City Festival opened its doors for retirees as recently as July 2006.
Sun City and its sister cities have become iconic retirement destinations, setting a standard for age-restricted communities around the nation. It is clear why Sun City remains one of the most sought-after spots to settle down in during your golden years – it has all that you need! From leisure activities to care services, this place offers something for every retiree's desired lifestyle.
If you're looking for a quality cabinets, Valley Discount Cabinets is the best for you!
Top Places to Visit in Sun City, AZ
Sun City, Arizona offers plenty of attractions for its visitors and residents alike. Here are some of the top places to visit in this vibrant city:
1. Come experience the breathtaking sights while enjoying a show or concert in the open air at Sun Bowl Amphitheater. With plenty of seating and concession options, you can't go wrong with this unique outdoor venue!
2. Sun City is well-known for the Bell Recreation Center, which houses a dazzling array of shopping experiences. From lovely jewelry pieces to cozy furniture items, fashionable clothing, and books galore – you name it! There's something special here for everyone.
3. If you're in search of an exciting outdoor escapade, look no further than the White Tank Mountain Regional Park. Here you can embark on miles and miles of hiking or cycling trails teeming with natural beauty to uncover and explore–the perfect opportunity for all adventure enthusiasts!
4. For golfers eager to test their skills, Sun City boasts some of the area's top-rated courses. The Grandview Golf Course is particularly renowned, as it has become a favorite among both residents and tourists alike.
5. Finally, the Lakeview Recreation Center provides an ideal setting for local senior citizens to come together and partake in a variety of activities like art classes, dancing sessions, and social gatherings.
Top Places to Dine & Drink in Sun City, AZ
1. Sunset Bistro is a popular eatery in Sun City, offering delicious Mediterranean cuisine in a cozy atmosphere. Here, you can indulge in delectable appetizers and entrees, as well as freshly prepared desserts.
2. Paulie's Little Bite of Italy is a favorite spot for Italian fare in the area. From traditional pasta dishes to pizza, this restaurant is sure to satisfy any craving.
3. Benny's Burgers and BBQ is the perfect spot for a casual meal. They offer classic burgers, hot dogs, and pulled pork sandwiches with all the fixins you'd expect from a great BBQ joint.
4. For Mexican food lovers, Filiberto's Mexican Food is an excellent option. This restaurant serves up authentic dishes such as tacos, burritos, and
5. Royal Cafe is a local favorite for coffee and pastries. Featuring cozy indoor seating and outdoor patio tables, it's the perfect spot to relax with friends or family.
Make your next getaway an unforgettable one and visit Sun City, Arizona! With its array of attractions, eateries, and buzzing bars, there's something to cater to everyone's tastes—from outdoor activities to a relaxed catch-up with friends. Make the most out of your trip by exploring all that this beautiful city has in store for you!